Hasbro celebrates the 80th anniversary of Monopoly together with Antoshka
In 2015, the popular Monopoly board game celebrates its anniversary at World Championship event in Macao. Monopoly Championship in Ukraine supported by Antoshka stores chain was a qualifying round for the world competition.
The qualifying games were held on June 6 in Odessa and June 13 in Kiev. Four best players reached the final that is two finalists in each city. The winner of the national tournament was named at the game on June 13. In autumn Alexandr Kovalenko from Kiev will represent Ukraine at World Championship in Macao.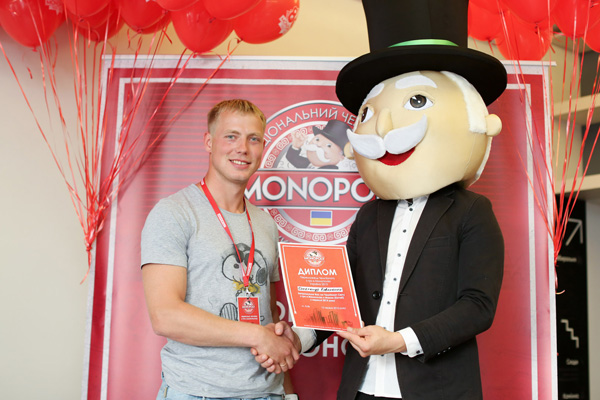 Alexandr Kovalenko – the winner of Ukraine Monopoly Championship 2015

Those who aged 18 could compete. Hasbro, the organizer of the championship, created a web platform (http://monopoly.hasbrogames.com.ua) with participation and registration terms. More than 500 people applied to participate. The preselection procedure implied a test on Monopoly rules knowledge. There were 32 players chosen for the qualifying rounds in each city.
Every player received a special retro Monopoly 80th Anniversary Edition game. The new version contains retro tokens, cards, money as well as wooden houses and hotels that are like the ones of different decades.
Antoshka supported the Monopoly tournament with its promo-company in its stores, site antoshka.ua as well as Facebook, VK and Instagram.
A trade and entertainment center "Mega-Antoshka" in Odessa prepared a special program for little fans of Monopoly. There was Monopoly children tournament in the equipped entertainment zone.
Vladislav Burda visited the qualifying game in Odessa. He played Monopoly with the mass media representatives out of competition.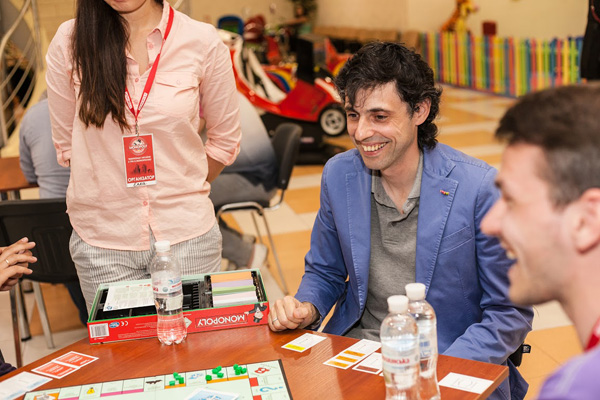 RedHead President, a long-time fan of Monopoly, shared his impressions after the tournament:
"The advantages of the game is that it reproduces a life model. The person's behavior while playing shows the way he or she does in real life. Someone is very cautious and does not take decisions moving ahead with dices. Someone is active offering deals and seeking to build up the more the better even if he or she loses cash. Unlike real life being a loser and bankrupt in the monopoly does not hurt. Moreover Monopoly has strict rules to follow.
When you open the box and feel printing ink smell and you spread the board, everything looks ideal. Life is not ideal one. You have to manage chaos. Monopoly does not only train business thinking but it allows escaping from reality. Winning the game one can feel adrenalin and losing it one can still have his/her head above water."